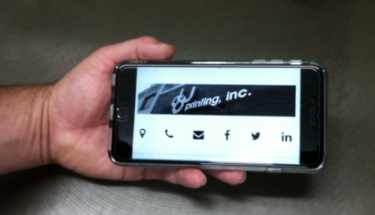 Technology Driving Results
New Technologies are adding value for customers, especially when it comes to digital print, integrated campaigns and personalized messaging. Boost engagement with print as an on-ramp to your digital assets.
Print + Mobile
print is an excellent way to help get your clients and prospects to connect with you on-line and start discussions. Your printed collateral plus a mobile device or tablet is an easy on-ramp to your digital assets and marketing efforts.
Use customer data to personalize your printed communications with timely and relevant messaging, unique to your client.

Use our augmented reality app to provide interactive content with print using a smartphone or tablet.

We have an award-winning agency for a complete campaign including assessment, strategy, creative, execution and analytics.