Equipment
State-of-the-Art Digital Equipment
At DSJ Printing, we are proud to use the most modern equipment available. Not only will the work we print for you look terrific, but our digital and variable-data printing capabilities will enable you to customize and target your customers better than ever before. When your customer receives a customized piece just for them, they really feel like a VIP, your response rate skyrockets.
---
Konica Minolta bizhub press C8000
Introducing the new bizhub PRESS C8000, the next-generation flagship model that holds unlimited digital printing potentials to meet the high-level needs of professionals. When we say flagship we mean it. I mean take a look at this baby below, busting out the seams! All aboard.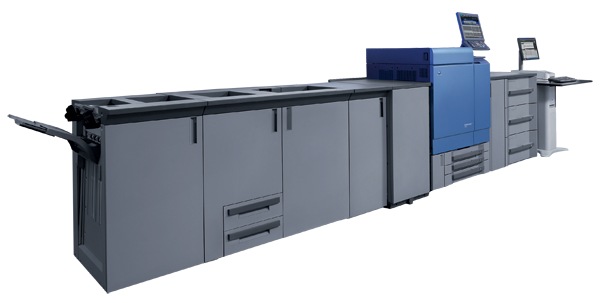 High image quality and definition nearly equal to offset printers

achieved with the further advanced S.E.A.D. II (Screen-Enhancing Active Digital Processing II) image processing technology. It is too much to put in words here you just have to see it for yourself to believe it!

1200 dpi 8-bit high definition outputs

for outstanding reproductions of fine characters and thin lines, C8000 realizes full-color 8-bit multi-layer data processing, providing more accurate reproductions of fine details.

Natural luster with Simitri HD+ toner

newly evolved for C8000's high productivity as well as pursuing higher image quality. Developed by Konica Minolta with a focus on the environment using plant-based resources, reducing emissions by more than 1/3, compared to pulverised toner, with less energy consumption during both printing it on press and the actual production of the toner itself.

Outstanding image retention and stability

through the pursuit of consistently beautiful quality from the first print to the last utilizing IDC (Image Density Control) sensors which provide real-time feedback during continuous printing. The maximum densities and half-tone densities are adjusted automatically to achieve efficiency and maintain stable image quality.

More business opportunities with enhanced media handling

using low temperature fusing for better productivity on a wider variety of paper types including thick paper upto 350 gsm.

High productivity to meet both long and short runs with ease

by providing high speed color outputs of up to 80 ppm and 70 ppm for thicker paper while maintaining high productivity with automatic duplex printing.

High reliability and durability for professional confidence

C8000 adopts a highly rigid frame, chassis and parts which means a longer life for both the unit and consumables, with 1.5 times more life-cycle for developer & drum as well as 2.5 times more life-cycle for the toner.
---
Presstek Dimension Excel Platesetter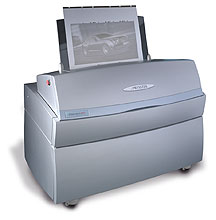 Presstek's Dimension Excel is a versatile, high performance, CTP (Computer to Plate) system that streamlines the printing workflow - imaging your digital files directly to high resolution thermal metal plates for superior printing performance. It's highly affordable, delivers high-quality imaging and is based on industry proven technology.
Environmentally Friendly "Green" technology
Dimension Excel employs daylight-safe, chemistry-free thermal imaging technology. Gone is the need for special lighting environments and plate processor maintenance. All chemical developers are completely eliminated including storage and disposal. Since there no chemicals necessary to process our printing plates, there is no need to clean, monitor or maintain a processor. And there are no more remakes due to exposure or vacuum frame deficiencies or errors. All of this results in a significant reduction of our environmental impact. Dimension Excel delivers all the quality needed to satisfy the toughest market requirements. For every type of offset printing, from stationery packages, annual reports and art posters to packaging and labels, the Dimension Excel produces plates quickly with the quality you demand. The combination of the Dimension Excel platesetter and Presstek's chemistry and process-free plates provides an optimized system for higher productivity and quality with cleaner operation and lower cost to the customer. It's a smarter way to print.
ProFire Excel
Dimension Excel systems are enabled by Presstek's thermal laser imaging technology. ProFire Excel is Presstek's next generation imaging technology; it takes full advantage of over a decade of research and development efforts and the experience of thousands of installations worldwide.
ProFire Excel builds on Presstek's award-winning ProFire technology which is already utilized in Presstek Dimension CTP systems and DI-enabled presses. ProFire Excel brings together all of the imaging components - high power infrared laser diodes, laser driver and data electronics, and motion control into one compact imaging system. ProFire Excel offers rock-solid reliability, superb quality, fast and accurate imaging, durability and long lasting laser diodes.
---
IPF8400 - 12 color 44" Large Format Printer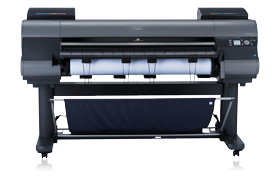 Built for ultra high quality imaging and exceptional performance, the imagePROGRAF iPF8400 44" large format printer is equipped with an array of professional features. An incredibly large color spectrum is produced by the 12-Color LUCIA EX pigment ink set, which also provides better scratch resistance and smoother gradations. The new Multi-sensor included with this printer provides improved color density detection and allows for a full calibration to be completed within 15 minutes. The imagePROGRAF iPF8400 achieves consistently breathtaking, durable and long lasting prints.
---
Canon ImagePRESS 7000 Digital Color Press
Exceptional image quality, comparable to offset printing.

Superior colour consistency and production capability.

Paper trays that handle a wide variety of paper weights, types and sizes.

70ppm at 300gsm

13" x 19" maximum sheet size

Up to 10,000 sheet capacity

Accurate registration on double-sided printing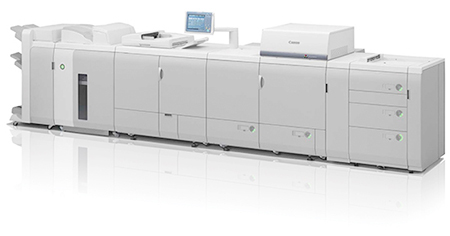 Image Quality
The Canon ImagePRESS C7000VP digital press incorporates the next generation of digital printing technology that redefines expectations of image quality, productivity, and versatility. The ImagePRESS C7000VP delivers exceptional print quality that rivals offset printing — while maintaining superior colour consistency and production reliability.The powerful production engine is built for high-quality, on-demand printing, coupled with advanced image control and colour management tools to deliver outstanding print quality at a resolution of up to 1,200dpi with 256 graduations at speeds of 70 color impressions per minute, onto paper stocks up to 300gsm.
A difference in quality you can see and feel.
At the core of the imagePRESS system is an entirely new print engine and toner technology that ensures outstanding image quality, reliable and consistent colour, and detailed, sharp images on gloss, matte, and specialty stocks to produce output that looks and feels like offset printing.
A smoother, flatter finish
Canon's new oil-free V Toner utilizes exceptionally small particles containing micro-dispersed wax so the toner fixes evenly and lays flat, resulting in sharp, vivid, dense images and a smooth finish.
Gloss optimization — a reflection of quality
The imagePRESS C7000VP integrates Canon's unique new toner, imaging process, double fusing technologies and media library to work together ensuring the gloss of the image matches that of the paper and remains consistent across the page. The result is undeniably superior print quality.
Ultra high image quality on a wide range of paper stocks.
The imagePRESS C7000VP digital press uses an Elasticised Rubber Transfer Blanket (ERTB) which is similar to the blanket on an offset press. The result is better solids on plain and coated stocks, and also on specialty papers.
Consistency you can count on
The built-in Automatic Press Calibration sets the proper color densities without operator intervention, while Canon's Advanced Developer technology maintains a constant supply of fresh developer for colour consistency from side to side, page to page, and job to job. Real-Time Calibration measures colour density levels constantly and automatically makes any necessary adjustments to ensure consistent print quality. New print engine, toner technologies and the ability to print on a wide range of media deliver results that rival offset printing.
---
Offset Presses
---
We utilize the most current technology in our industry. Our state-of-the-art equipment allows us to provide our clients with high-quality products faster and less-expensively than our competition. We realize that most people could care less about what models of equipment we use, so long as they receive what they ordered on time and looking it's best. Still, we can't help being proud of our toys. Once you see how great they make you look, we hope you'll be proud of them, too
We'll be adding more so check back in soon.